In my opinion, email marketing is just as important as social media at attracting and getting new customers. So don't write the old girl off just yet. Here are some things to consider:
Delivery
Email marketing goes directly to the a place where people are looking to receive messages. This is why Facebook included a message and email function. They know that this type of communication is still a valid delivery method. In addition, because email can use HTML code, it allows for more flexibility. This includes the ability to embed images, attach documents, or embed links to your Youtube videos to aid in getting your message out loud and clear. Email also allows you to track who received your message, who opened it, who clicked on your links within the email, and did they forward it, etc.
Read Rate
Average email marketing open rates are anywhere from 10-20% depending on which study and industry you want to believe. In comparison, the average Facebook, Twitter or other social media post has a read rate of somewhere around 2 to 4%, again, depending on who's report you believe. This is simply because of the mass volume of posts on those social media channels.  That number can fluctuate based on the end user and the number of friends or pages they are following and interacting with on a daily basis.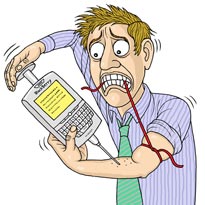 Attention and Usage
Quite simply, email has become a habit for people. 58% of internet users check their email when first going online. (Also, the number of consumers accessing their e-mail via a mobile device has grown by 81% since  October 2010.) Email is still the primary source of communication and is given the most attention. This may change over time as younger generations come along and opt for using social media sites or mobile messaging over email all together, but currently email still gets the most eyeballs.
All things to keep in mind when you are thinking through you company's digital marketing strategy.
As a side note, if you need an email marketing service, I would recommend MailChimp.com. They allow you to have a ton of contacts on your mailing list, you can send a ton of emails a month, it is easy to use, and it's FREE. I use them all the time. So if you decide to give MailChimp.com a try and have questions, feel free to send them my way. (Btw, I have no business relationship with MailChimp.com.  I just like their system.)
As always, if I can be of service to you or your company in developing or managing your digital strategy, do not hesitate to contact me. Also, if you have any comments or questions, please feel free to post them in the comments section below or send them to Kelly@AmpedUpDigital.com.